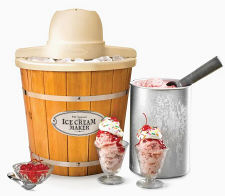 Nostalgia 4 Quart Ice Cream Freezer
Everday Low Price - $68.49
Built to remind you of old fashioned 4 quart ice cream makers of the past. The Nostalgia 4 Quart Ice Cream Freezer is a quick and easy way to make ice cream, frozen yogurt or gelato.

Make each recipe your own by adding extras like strawberry preserves, cookie dough, candy pieces and much more. When your ice cream is done, use the included lid and lid cap to store leftover ice cream in the freezer.

All of our products are first quality and factory new.
If you are not satisfied with any Ice Cream Outlet product you may return it within 30 days for replacement or refund.